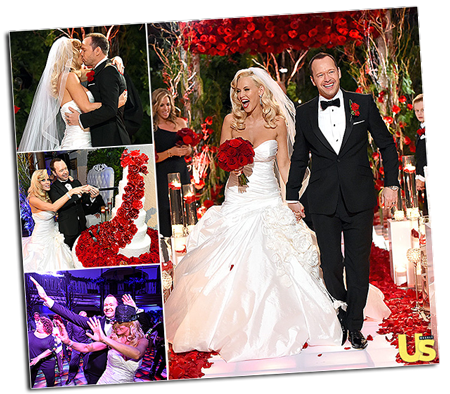 As Seen in Us Weekly
We had the honor of designing the floral & decor for Jenny McCarthy and Donnie Wahlberg's wedding at the historic Hotel Baker. We transformed the Rainbow Room into an enchanted rose garden and filled dinner tables with thousands of roses and candles.
Congratulations to the happy couple!
As for my bouquet, it was one of the prettiest things I've ever held – I cried when I saw it because it was just right, and I felt the same way about all of Jenna's work from the decor at the church to the centerpieces. She's amazingly talented but beyond that, a joy to work with and you can tell she truly cares about her clients. Kaitlyn & Michael
Thank you for your ideas, patience, and professional work ethics. Of all our vendors, you were the best to work alongside the entire journey.
Love,
Mary & Katie Teyro Mary, Mother of the Bride
All of the bouquets and centerpieces truly exceeded our highest hopes and expectations. They were truly spectacular. One of our guests even commented that she had to touch them to make sure they were real; they were that perfect. George & Diane, Parents of the Bride
Jenna took all my scattered thoughts and ideas and turned them into something more gorgeous than I could have ever imagined. Teresa & Ryan
Avant Gardenia was able to incorporate the amazing backdrop of the Chicago skyline with the elements of the planetarium for a subtle cohesiveness that was stunning. Danielle & Patrick
Not only were the flowers lovely- you were lovely. It was such a pleasure to work with you and have someone who really listened to our ideas and didn't try to force your opinions or biases on to us. Pat, Mother of the Bride
One of my bridesmaids made a comment that "those came straight out of a magazine"! You definitely get what you pay for with Avant Gardenia! Jill & Lincoln
Jenna and her staff do not miss any detail. She is very creative and can make any vision come alive (or help you form one, like me). Her value far exceeds her prices. Leslie and Marc
Just wanted to say a big THANK YOU for the beautiful flowers for my wedding. They were absolutely STUNNING, and so many people commented on how gorgeous the bouquets, chuppah, and centerpieces were. The flowers were exactly what I envisioned and definitely created the look of romantic elegance that I was going for.
You were an absolute pleasure to work with, and I will recommend you to any friends looking for a florist. I also plan to write rave reviews for Avant Gardenia on The Knot and Wedding Wire.
Thank you again for helping to make our day so special.
Emily & Kenny
The flowers were unbelievably beautiful- passed our expectations immensely! The "wow" word doesn't even describe it. I received more compliments on all of it than on anything else.
Love,
Katie Katie & Adam
She was able to pull the colors of the wedding together perfectly, but I also felt that the style of the bouquets, the choice of flowers, and kales, and artichokes all really reflected my style. So there was more to it than the color, she added a whole other dimension with her use of shape and texture. Her eye for design is really unique to her. Erika & Marc
Our guests couldn't stop taking photos of the tablescapes and saying that it was by far the best wedding floral they had ever seen. Jenna's ability to articulate structure and softness to compliment our style and the amazing venue was a demonstration of true talent. Chuck & Mike
They are professional, fun, and deliver only the best. Avant Gardenia will MAKE your wedding! Catherine & Danny
Her vision of the room was more than I could ever have imagined. It literally took my breath away when I walked into my wedding reception, which is exactly what should happen to every bride on her wedding day. Sophal & Dan
If I could do my wedding all over again, I would have pulled money from every other aspect of the wedding and just blown the room away with her design. Tricia & Vasili